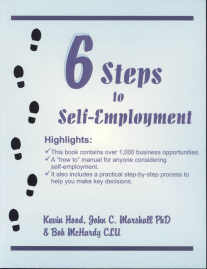 6 Steps to Self Employment
$14.95USD, $19.95CAD
About the book
This book offers a practical process for making key career and business decisions. More and more people are discovering the opportunities and challenges of self-employment. Six Steps to Self-Employment, the product of hundreds of seminars conducted by Kevin Hood, sets out a positive programme for choosing, refining, and developing the self-employment option that is right for you.
This book shows you how to discover and evaluate self-employment opportunities, and describes a programme of effective marketing and business development strategies. Here's what people have said about the Six Steps approach:
"I am thoroughly convinced that it is feasible for me to start my own business. The book provided simple and informative instruction. The daily goal and emphasis on customer need was constructive and practical."
"I wanted to thank you for the suggestion that I branch out with lots of clients rather than focusing on just one or two… I am now so busy that I have actually had to turn work away. I am also earning twice what I would have expected as a full-time employee."
Six Steps to Self-Employment provides valuable practical advice on how to get your business up and running, as well as expert insights on self-management that will help you continue to grow, both personally and professionally.
Order