Welcome to week 6 of our seven week blog series on the predictive demographic attributes of successful sales reps. If you just happened to find this blog series, the five previous characteristics that were covered are: (1) Coming from a Warm Referral Source; (2) Being Employed at the Time of Applying; (3) Possessing at least 3 Years of Competitive Sales Experience; (4) Previous Job Stability, and (5) Working > 45 Hours per Week.
Predictive Trait #6: BEING A CONSUMER OF THE PRODUCT / SERVICE THAT YOU ARE SELLING
Many of our clients ask prospective candidates during the recruitment process if they currently use or consume the product / service that the company offers. This question is intended to provide an indirect measure of familiarity as well as belief in the product / service.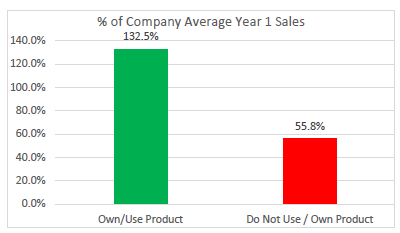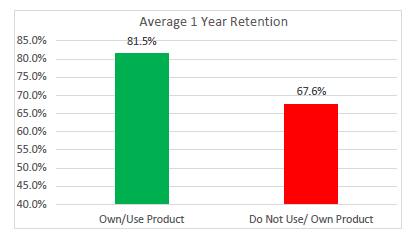 Similar to what was presented in week 4, we have another example of the "double whammy" ROI. Below are our fictitious company metrics:
Average 1st Year Production: $200,000                                                                                    Average Cost of Hiring / Training / Onboarding: $20,000
Following from the above graphs, at the end of 12 months, this organization would have an additional 14 reps still active, all of whom would be performing 32.5% above the company production average. As such, this top line ROI reflects an additional $910,000 in sales revenue in the first year alone. Along with this top line ROI there is a simultaneous bottom-line savings associated with the reduced costs of not having to train and on-board 14 new sales reps. This bottom line savings is $280,000, which brings the total ROI associated with hiring sales reps with previous job stability for this relatively small company to $1.19M in the first year.
Belief in product has long been acknowledged as a correlate of sales success. It has significant protective qualities against call reluctance and rejection, as sales reps continue to push through as a result of their belief that they are truly helping people by positioning their product / service. If a sales professional believes in their product they will push through client objections or hesitation as they believe that the best thing they can do for a potential client is provide them the product or service. Also, as a result of the sales conversation, the sales rep has inevitably created anxiety in the client by identifying a need and thus there is a motivation to close in order to reduce the anxiety of the prospective client. It has been said on numerous occasions; the only difference between a true sales professional and a con man is belief in product.
Being a current consumer of the product / service in questions also suggests a degree of familiarity. If we use insurance advisors or wealth managers as an example, consumers of these products and services not only understand and believe in their importance, but are familiar with the products themselves and also the role of the advisor / agent. This familiarity likely leads to a smoother onboarding process, as well a deeper commitment to the product itself.
Stay tuned for next week's blog, where we present the cumulative power of these 6 predictive demographic factors, and highlight the incredible ROI companies can expect by incorporating these attributes into their future recruitment processes.