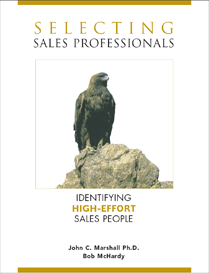 Selecting Sales Professionals
$22.95USD, $29.95CAD
About the book
Selecting Sales Professionals is your key to identifying high effort sales reps.
Building a successful sales team depends on choice, not chance! Dr. John Marshall's analysis of successful selection systems across North America shows how a sales organization of any size can build on its strengths to achieve new levels of productivity and profitability.
Based on more than twenty years of research, training, and consulting – while working with thousands of sales managers and sales people -Selecting Sales Professionals explains how top managers attract, recruit, and select top-performing sales reps.
This book explores the principles of effective recruiting and selection – and offers a wealth of practical examples of how to ensure the continued success and growth of your sales organization.
Order